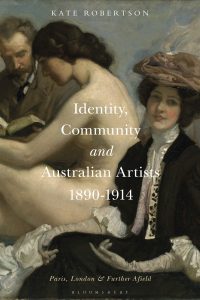 Identity, Community and Australian Artists, 1890-1914: Paris, London and Further Afield
By Kate R. Robertson
September 19, 2019
Bloomsbury Visual Arts
Monograph, Hardback, e-book, 256pp
ISBN 9781501332845
This book explores the irresistible call that lured Australian artists abroad immediately pre- and post-federation, an under-explored juncture in British-Australian history. Travelling enabled an extension of artistic frontiers, and Paris – the centre of art – and London – the heart of the Empire – promised wondrous opportunities. But their Australian-ness was a constant, performed by burning gumleaves at a cafe, dressing up like a stockman at a costume ball, even painting Edward VII. Importantly, they also became part of the broader creative community, creating a network of relationships with local and international artists.
Through utilising extensive archival material, much of which has limited or no publication history, this book fills a gap in existing scholarship. It offers a vital exploration re-consideration of the fluidity of identity, place and belonging in the lives and work of Australian artists in this juncture in British-Australian history.